Courses and Trade of Study
---
Electrician
Electrician is the one who is specialized in all domestic, commercial, and industrial electrical installation, Terminology, Maintenance, services and repair works, an electrician can do wiring and designing of circuits in the new buildings, apartments, electrical fixtures and fittings, repairing and services of domestic appliances like fans, iron box, heaters, geysers, oven electric stoves, cabling work, alarm installation, regular safety check, maintenance, rewinding of electric motors, installation of transformers, switch board etc.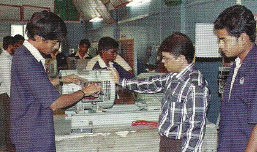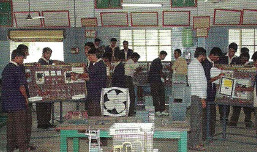 Scope of electrician trade is good; they can job at state and Central Government establishments, MNCs, Public and private sectors, Electric boards, Railways, Telephone departments, Generating stations, Airports, Hotels, Auditoriums, Hospitals, Theatres, Shopping Malls, Apartments, Industries etc. KAVIKA, GE-POWER, ISRO, HAL, NAL, BHEL, BEML, ABB, APC etc.
They can become class-1 contractors by obtaining a valid license on their trade certificates.